Former UD coach set to celebrate milestone birthday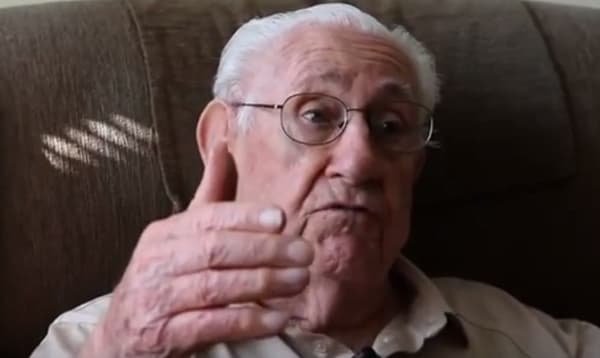 Most Dayton Flyers fans already know that Saturday marks the season opener for basketball when Western Illinois comes into town. November 12th is also significant for a big part of Dayton's proud roots. Former Dayton head coach Jim Carter (1939-1947) will incredibly celebrate his 100th birthday this Saturday in Anderson, Indiana, with his family and close friends.
If you don't know who Jim Carter is, it's because he predates what is known as modern day Dayton basketball. Flyers basketball, as most know it, really gained popularity when Tom Blackburn took over the program in 1948. Blackburn, the man known as the Godfather of Dayton basketball, passed away at the young age of 58 nearly 48 years ago.
Jim Carter, the coach that Blackburn took over for, is getting ready to turn an an incredible 100 years old on Saturday. The man that told me he feels no aches or pains today, was a heavy drinker until six years ago, and drives himself to the grocery store a couple times a week.
In his college days, Carter teamed up with Duane Purves to form the famed "Touchdown Twins" backfield for Purdue football back in the mid-1930's. Although he only played freshman basketball at Purdue, he was later hired to coach basketball and be the running backs coach at Dayton in 1939.
CARTER TAKES OVER AT UD

Head basketball coach Joe Holsinger had just wrapped up a disappointing 2-12 season for the Flyers, his fourth straight losing season. That's when Holsinger decided it was time to move on.
"I was the football coach at State Teachers College in Mankato, Minnesota," Carter recalled. "There was a guy that graduated from UD that lived in Terre Haute, Indiana. He followed me all through high school and college and he was a saleman and traveled for his job. When I was at Mankato, he called me one day and we got to know one another pretty good and he's the one that told me about the job at Dayton. He said their backfield coach was leaving and he was also the basketball coach, and I know you don't have a big background in basketball, but why don't you apply for that job? So I called Harry Baujan and he was tickled to death. He's a Notre Dame man and I played for a Notre Dame coach so we had the same system. I was familiar with Notre Dame football."
So he began his coaching duties at the University of Dayton during football's spring practice in 1939, getting paid a lousy salary of $2500 for the year. That winter, he took over the basketball program that had averaged a little more than four wins the prior four seasons.
UD won four games in his first year, doubling the win total from the year previous. Carter's first win came in upset fashion, a 59-51 win over a ranked Rhode Island State club. It was the first game of an ambitious road trip that Dayton took to New York City.
"That was a nightmare," Carter said. "We played a ballgame in Dayton on a Saturday night, and we left the next morning for New York. We played five games in seven days, it was brutal. And I hardly knew the names of my players because we had only played one ball game. We went on an old beat-up bus, oh, it was a trip! We had no way to get our uniforms cleaned. We had one player that lived in Mineola on Long Island, and his mom came and got our uniforms and washed them for us when we played LIU in Long Island."
The team got better each year, though, winning nine games in 1940-1941 before an impressive 12-6 mark in 1941-1942. They were 9-8 in his fourth season, putting together two straight winning seasons for the first time at UD in 15 years.
Carter was really coming into his own as a basketball coach, and then the war hit. Dayton suspended it's program for the next two years, while Carter worked as a recreational director for DuPont in the state of Washington-- the site of where plutonium was produced for the first atomic bomb.
"It was all kind of hush-hush, nobody knew for sure what was really going on there," he said. "But once that first bomb was dropped, we all knew. Shortly after, everybody's services were terminated."
So he headed back to Indiana, where he remained unemployed for a few months. That October, Dayton decided to bring back the basketball program right before the season began. Carter was once again employed as the coach, but the two-year break really slowed his and the program's momentum.
After just three wins in his first year back, pressure was beginning to mount to produce a highly successful basketball program at UD. In 1946-1947, Charles Jones became the first black basketball player at the University of Dayton. However, the Flyers played without him when they traveled to Lexington to face the Kentucky Wildcats that season.
"When we played Kentucky, Adolph Rupp sent me a letter saying, "We'd appreciate if you didn't bring any colored athletes" so we had to leave him home. What are you going to do? It's a real feather in Dayton's cap to play a team like Kentucky and we were already contracted for the game, so we went ahead and played the game. Charles took it real well and understood the situation."
Dayton was embarrassed 70-29 and went on to lose 17 games that year, ultimately leading to Carter's dismissal. He spent just six years of his life in Dayton, but looks back at the time fondly.
"One of the nicest things about coaching athletics at Dayton was they were all nice kids, they were all gentlemen," Carter noted. "You were willing to go the extra mile because all those kids were so daggone nice. I often think about how much fun it was coaching at a place like Dayton."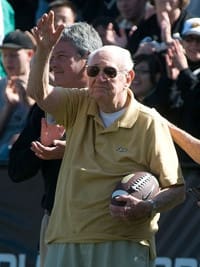 LIFE AFTER DAYTON
Carter went on to become a successful high school football coach, winning 92 games in 14 years at Anderson High School. He was inducted into the Indiana Hall of Fame in 1977. He retired from coaching football 46 years ago and he spent most of the first 30 walking. He'd walk his dog four miles in the morning and another four miles in the afternoon.
Most of the walking he has done the past 10 years was in his one-story apartment in Lawrence, Indiana, where he lives by himself. He said he has always steered clear of fried foods and said he had a routine of about 8-10 shots of cheap vodka a day up until he was 94. It was then that he was driven to the Cleveland Clinic by ambulance to have his aortic valve replaced because it had about 80% blockage. At the doctor's orders, he hasn't had any alcohol since.
His only other health setback came last November when he had to have a pacemaker implanted. He said he knows he's in excellent health and feels no aches or pains in his 99-year old body. Carter said he often gets tired from normal activity, but stated emphatically that he recovers quickly. These days, he doesn't do much except for sit in his favorite recliner by the window and watch television-- notably the Big Ten Network.
Today, Carter will move into an apartment for assisted living, mostly because all his meals will be provided for him. On Saturday, the Anderson Recreation Center has been rented to celebrate his milestone birthday with some of his family and closest friends.
I've talked to Coach Carter a few times on the phone and visited him at his apartment in August. His hearing is not the best these days, but his mind is as sharp as a tack. His memory is outstanding, recalling things in detail from over 70 years ago when asked. He still possesses a boyish laugh and shows off a terrific sense of humor.
"You want to know the secret to living to 100," Carter asked me at the end of our interview.
Naturally, I said Yes.
"Live to be 99 and be careful," he replied with a laugh.
The incredible Jim Carter only has to be careful for a couple more days.